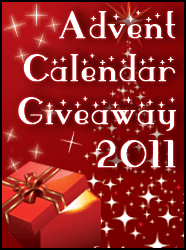 Welcome to the eighteenth day of Book Lovers Inc Advent Calendar. Each day we will offer you one great read in a giveaway on all 24 days till Christmas.
Today you will have the chance to win Bloodthirsty by Flynn Meaney!
Now, if you want something completely different from the traditional vampire book…this is it! Bloodthirsty is: 1: From a guys perspective 2: Doesn't have real vampires in it and 3: pokes fun at how crazy the world has gotten over vampires in general! I absolutely loved this story, it reads so quickly and you're left wanting so much more, plus the laughs that come from this book, well, let's just say I got some funny looks while I was reading this in public. As far as I'm concerned, whether you like vampires or you loathe them…either way you'll love this!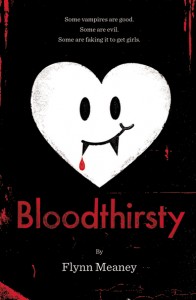 Purchasing Info: Goodreads, Amazon, Book Depository, Barnes & Noble, Kobo

Book Blurb:
Some vampires are good. Some are evil. Some are faking it to get girls.

Awkward and allergic to the sun, sixteen-year-old Finbar Frame never gets the girl. But when he notices that all the female students at his school are obsessed with a vampire romance novel called Bloodthirsty, Finbar decides to boldly go where no sane guy has gone before–he becomes a vampire, minus the whole blood sucking part. With his brooding nature and weirdly pale skin, it's surprisingly easy for Finbar to pretend to be paranormal. But, when he meets the one girl who just might like him for who he really is, he discovers that his life as a pseudo-vampire is more complicated than he expected. This hilarious debut novel is for anyone who believes that sometimes even nice guys-without sharp teeth or sparkly skin–can get the girl.
The Review:
Bloodthirsty was a non-stop laugh for me, purely because it was so true.
Finbar is for want of a better word, a loser. He is painfully awkward in social situations, doesn't have the looks or charm of his twin fraternal brother, Luke, and just to make his life that much worse, he's allergic to the sun.
Finn was an amazing character for me; he wasn't a whinger which took some expert writing on Meaney's part. His plan to turn himself into a vampire to break away from his life time of social ineptness made for one of the funniest books I have read in a long, long time. His ability to laugh at himself through some of the more cringe-worthy experiences with girls was refreshing for me, as usually main characters want us to feel sorry for them and their horrible life. Read the rest of the review.
~~~~~~~~~~~~~~~~~~~~~~~~~~~~~~~~~~~~~~~~
~*~*Giveaway*~*~

One lucky commenter will be the winner of a brand spanking new copy of Bloodthirsty!
All you have to do is tell us what's your LEAST favorite thing about the holidays?
(You can read our full giveaway policy here)
Please leave a valid email when placing your comment so we can inform you if you win.
This giveaway is open to everyone!
Giveaway ends on Saturday, December 31, 2011; and we will announce the winner on Sunday.
Good luck!!!