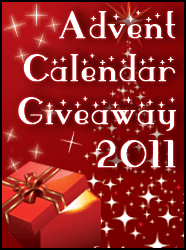 Welcome to the 8th day of Book Lovers Inc Advent Calendar. Each day we will offer you one great read in a giveaway on all 24 days till Christmas.
Today you will have the chance to win a copy of Three to Tango- one of the best anthologies I ever read. It has 2 of my all time favorites authors-Megan Hart and Lauren Dane. I actually devoured their stories. And through this anthology I discovered Emma Holly and I really fell fast for her writing. You like you romance hot? This is the book for you.
Purchasing Info: Lauren Dane, Megan Hart, Emma Holly, Bethany Kane, Publisher, Amazon.com, Barnes & Noble, Amazon.ca, Powell's, Books-A-Million, Borders, Chapters, IndieBound, Goodreads, Kindle, Nook

Book Blurb:
Four of erotic fiction's most talented authors carry readers away with all-new tales of ecstasy that prove that the most delectable things in life come in threes…

In Emma Holly's FLIPPING FOR CHELSEA, Shay and Liam shared an unforgettable night with their lifelong friend, Chelsea, awakening a rush of forbidden feelings–feelings they have to reckon with when the three reunite, and the unrequited lust between them is too much to bear.

Though Ava left her hard-knock Georgia childhood behind, she never forgot Luca and Angelo. Together they were best friends with a bond that could never be broken. But when she returns, the three must decide whether to face the fires that burn between them, or forgo their desires forever in Lauren Dane's DIRTY/BAD/WRONG.

In Megan Hart's JUST ONE NIGHT, fun-loving couple Kerry and Jeremy find themselves in a triangle of trouble when Kerry's old crush, Brian, returns for a school reunion, and Jeremy gives her his enthusiastic approval to seduce him. But while Jeremy has no trouble sharing Kerry, Brian isn't sure he can handle what's coming.

Years ago, Walker walked out on Madeline when she needed him most. Now, the ex-Secret Service agent is back–hired to protect Madeline by her billionaire boss, Tony. Madeline is determined to make him pay for denying her desires–and she's not above bringing Tony in to sweeten the deal in Bethany Kane's ON THE JOB.
The Review:
Susi: Three to Tango is one of the best anthologies I ever read. It kept me glued to the pages and actually prevented me from doing the important stuff for one whole day. A great collection of erotic romance which also delivers the emotional depth I love in my books. Highly recommended read!
Lea: I too thoroughly enjoyed Three to Tango and agree with Susi, it is one of the better anthologies I've read. I liked the theme that joined the four stories but each novella was unique and emotional in it's own way. Read the rest of the review.
~~~~~~~~~~~~~~~~~~~~~~~~~~~~~~~~~~~~~~~~
~*~*Giveaway*~*~
I will order one copy of Three To Tango for one lucky commenter at The Book Depository!
All you have to do is tell us what's your favorite holiday sweet snack? Or German Gingerbread with or without jelly in it? (Susi says without)
(You can read our full giveaway policy here)
Please leave a valid email when placing your comment so we can inform you if you win.
This giveaway is open to everyone(well everywhere Book Depository ships to)!
Giveaway ends on Saturday, December 17th and we will announce the winner on Sunday.
Good luck!