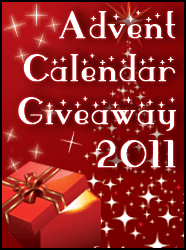 Welcome to the 15th day of Book Lovers Inc Advent Calendar. Each day we will offer you one great read in a giveaway on all 24 days till Christmas.
Today you will have the chance to win Deadly Descent by Kaylea Cross, Book #1 in the Bagram Special Ops series by romantic suspense and military romance author Kalyea Cross. I'll start by a revelation/confession: not only was Deadly Descent a favourite read of mine in 2011, but it was also THE novel which made me discover a whole new genre: the world of military romance! (And if you think military romance equals romantic suspense you are mistaken and it is great time you discovered MR!)
I can only recommend Deadly Descent to anyone who loves thrilling action and sizzling romance, it was a fantastic read and I'm looking forward to reading the next books in the series! 😀
Release Date: 5 September 2011
Publisher: Carina Press
Formats available: ebook
Purchasing Info: Goodreads, Author's Website, Amazon
Blurb:

Devon Crawford is an officer; Air Force Pararescueman Cam Munro is enlisted. Dev flies medical evacuations; Cam jumps into danger zones to save lives. Dev wants to return home from Afghanistan with her heart untouched; Cam will do anything to win the woman he loves.

Reaching for happiness in a war zone is the last thing Captain Devon Crawford plans, but she can't ignore the feelings she's hidden for so long. Cam's sexy charm and wicked kisses weaken her resistance, but she's too afraid of losing him to give in.

When Dev's helicopter and crew are shot down and set up as bait by a notorious warlord, Cam risks all to save the team. What he doesn't know is that the trap is set for him…
The Review:
I've read a few romance novels where the hero was an ex-marine/navy/soldier, but Deadly Descent is as far from them as Cinderella is from Bridget Jones! Deadly Descent reads like a unique combination of action movie/documentary, the nonstop action and tension won't let up and you'll only catch your breath when you have finished reading it. […]
A good novel sucks the reader in and makes them forget abour real life. Deadly Descent did more than that: I sweat and chewed my nails, wrang my hands while rooting for the characters to survive enemy fire as if I were with them on the team. Deadly Descent is an amazing story and Kaylea Cross is a great new author I've just discovered, I'll definitely check out her other novels!
~~~~~~~~~~~~~~~~~~~~~~~~~~~~~~~~~~~~~~~~
~*~*Giveaway*~*~
Thanks to Kaylea's generosity we have an ebook copy of Deadly Descent for one lucky commenter!
All you have to do is tell us do you have a favourite Christmas cookie or holiday dessert?
(You can read our full giveaway policy here)
Please leave a valid email when placing your comment so we can inform you if you win.
This giveaway is open to everyone!
Giveaway ends on Saturday, 31 December 2011; and we will announce the winner on Sunday.
Good luck!