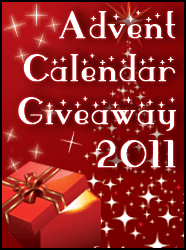 Welcome to the 16th day of Book Lovers Inc Advent Calendar. Each day we will offer you one great read in a giveaway on all 24 days till Christmas.
Today you will have the chance to win a copy of the hilarious book Bad Boys Do. I adore this book with all my heart. You have a wonderful and heartwarming small-town setting,  a smart and independent heroine and a hero that will win your heart faster than you can call dibs. This book made me laugh and cry- it will send you on an emotional rollercoaster ride and I just can't recommend this book enough.
Go get your copy or enter to win one in the comments.
Purchasing Info: Goodreads, Author's Website, Amazon, Book Depository (US), Book Depository (UK)
Book Blurb:
Olivia Bishop is no fun. That's what her ex-husband said. And that's what her smart bob and glasses imply. So with her trademark determination, Olivia sets out to remake her life. She's going to spend time with her girlfriends and not throw it all away for some man. But when an outing with her book club leads her to a brewery taproom, the dark-haired beauty realizes that trouble—in the form of sexy Jamie Donovan—may be too tempting to avoid.

Jamie Donovan doesn't mean to be bad. Sure, the wild streak in his wicked green eyes has lured the ladies before. Now it's time to grow up. He's even ready for a serious romance. But how can that be when Olivia, the only right woman he has ever met, already has him pegged as wrong?
The Review:
My expectations for Bad Boys Do were pretty high after I finished Good Girls Don't, book 1 in Dahl's new Donovan Brothers Brewery series. Jamie already caught my attention in the first instalment but oh my did I judge him wrong. I expected a fun and flirty guy with tons of experience and even though I knew he wanted to be seen as more I didn't expect such a deep and emotional plot wrapped around him as a character. Read the rest of the review.
~~~~~~~~~~~~~~~~~~~~~~~~~~~~~~~~~~~~~~~~
~*~*Giveaway*~*~

Thanks to Victoria we have a signed copy of Bad Boys Do  for one lucky commenter!
All you have to do is tell us what's the funniest thing you ever did on a holiday party?
(You can read our full giveaway policy here)
Please leave a valid email when placing your comment so we can inform you if you win.
This giveaway is open to everyone!
Giveaway ends on Saturday, December 24th; and we will announce the winner on Sunday.
Good luck!