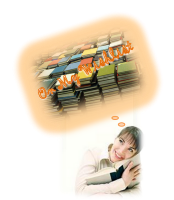 Hello Book Lovers! Happy this week is slowly reaching its end and the weekend is so close? I know I am!
For this week, I have prepared something special for you! A post that takes my imagination to gorgeous beaches and sunny days! With the weather, at least here in Greece,  getting hotter and hotter, I just can't help but feel that summer is here, a bit sooner than we all expected – but hey, I'm not complaining 🙂 – and envision long days at a beach, lounging under the hot sun along with some very hot reads! I don't know about you, but for me, one of the best ways to spend a day at the beach is with a nice book. And here you can safely assume that I'm not that big on summer sports as most of my friends are, so, that gives me plenty of time to spend by myself 🙂
So, for this week, I thought of preparing a list with some hot titles that I will definitely get with me on the beach and in the process, get some nice recommendations from all of you! So, let's start!
Once Burned by Jeaniene Frost
She's a mortal with dark powers…

After a tragic accident scarred her body and destroyed her dreams, Leila never imagined that the worst was still to come: terrifying powers that let her channel electricity and learn a person's darkest secrets through a single touch. Leila is doomed to a life of solitude…until creatures of the night kidnap her, forcing her to reach out with a telepathic distress call to the world's most infamous vampire…

He's the Prince of Night…

Vlad Tepesh inspired the greatest vampire legend of all—but whatever you do, don't call him Dracula. Vlad's ability to control fire makes him one of the most feared vampires in existence, but his enemies have found a new weapon against him—a beautiful mortal with powers to match his own. When Vlad and Leila meet, however, passion ignites between them, threatening to consume them both. It will take everything that they are to stop an enemy intent on bringing them down in flames.
Once Burned is among my most anticipated titles of the year! Jeaniene Frost is plainly that good a writer and whatever she writes, goes to my auto-buy list. The fact that this one releases in July means that it's on my top choices of scorching hot reads that will follow me to the beach 🙂
Pleasure Unbound by Larissa Ione
In a place where ecstasy can cost you your life . . .

She's a demon-slayer who hungers for sensual pleasure-but fears it will always be denied her. Until Tayla Mancuso lands in a hospital run by demons in disguise, and the head doctor, Eidolon, makes her body burn with unslakable desire. But to prove her ultimate loyalty to her peers, she must betray the surgeon who saved her life.

Two lovers will dare to risk all.

Eidolon cannot resist this fiery, dangerous woman who fills him with both rage and passion. Not only is she his avowed enemy, but she could very well be the hunter who has been preying upon his people. Torn between his need for the truth and his quest to find his perfect mate before a horrific transformation claims him forever, Eidolon will dare the unthinkable-and let Tayla possess him, body and soul . . ..
I know, I'm ashamed I haven't yet read anything by Larissa Ione, but her Demonica series is in a priority list for me and from the reviews and from friend's recommendations I assume it's a pretty hot series. So, on my wishlist please 🙂
The Perfect Play by Jaci Burton
Football pro Mick Riley is an all-star, both on the field and in the bedroom. But a sexy, determinedly single mom just might be the one to throw him off his game…

For years Mick has been taking full advantage of the life available to a pro athlete: fame, fortune, and a different girl in every city. But when he meets and beds confident, beautiful event planner Tara Lincoln, he wants much more than the typical one-night stand. Too bad Tara's not interested in getting to know football's most notorious playboy any better.

As the single mother of a teenage son, the last thing Tara needs is the jet-set lifestyle of Mick Riley; even though their steamy and passionate one-night stand was unforgettable. Tara's life is complicated enough without being thrust into the spotlight as Mick's latest girl du jour. Tara played the game of love once and lost big, and she doesn't intend to put herself out there again, especially with a heartbreaker like Mick.

But when Mick sets his mind to win, nothing will stop him. And he has the perfect play in mind.
Well, The Perfect Play seems scorching hot by its' cover alone… So, you get why it's on this wishlist… Apart from the cover though, the premise promises a sexy story I can't wait to read. And if I get a little bit too hot while reading it, I can always go for a dive… See, reading books by the sea has its advantages 🙂
Mine Till Midnight by Lisa Kleypas
When an unexpected inheritance elevates her family to the ranks of the aristocracy, Amelia Hathaway discovers that tending to her younger sisters and wayward brother was easy compared to navigating the intricacies of the ton. Even more challenging: the attraction she feels for the tall, dark, and dangerously handsome Cam Rohan.

Wealthy beyond most men's dreams, Cam has tired of society's petty restrictions and longs to return to his "uncivilized" Gypsy roots. When the delectable Amelia appeals to him for help, he intends to offer only friendship–but intentions are no match for the desire that blindsides them both. But can a man who spurns tradition be tempted into that most time-honored arrangement: marriage? Life in London society is about to get a whole lot hotter….
For me, summer means Historical Romance. Not that I don't read the genre any other time of the year, but maybe it is because I was introduced to this genre while it was summer, it kind of feels like a tradition. So, it's only natural that in my list I should include something by Lisa Kleypas. Almost everything I have read of hers, is hot. Seriously hot.
The Golden Lily by Richelle Mead
The second thrilling installment in Richelle Mead's Vampire Academy spinoff series

Tough, brainy alchemist Sydney Sage and doe-eyed Moroi princess Jill Dragomir are in hiding at a human boarding school in the sunny, glamorous world of Palm Springs, California. The students–children of the wealthy and powerful–carry on with their lives in blissful ignorance, while Sydney, Jill, Eddie, and Adrian must do everything in their power to keep their secret safe. But with forbidden romances, unexpected spirit bonds, and the threat of Strigoi moving ever closer, hiding the truth is harder than anyone thought.

Populated with new faces as well as familiar ones, Richelle Mead's breathtaking Bloodlines series explores all the friendship, romance, battles, and betrayals that made the #1 New York Times bestselling Vampire Academy series so addictive. In this second book, the drama is hotter, the romances are steamier, and the stakes are even higher.
A YA isn't by definition hot, I know, but Richelle Mead has a way of making her work hot, even if no sex is involved in it. Add to that the fact that I'm dying to get The Golden Lily on my hands as soon as it gets published and well, I'll take this book with me wherever I go 🙂
Which titles make your Hot Summer Reads Wishlist? Any good suggestions you have to enrich mine? I'm eager to hear your selections!