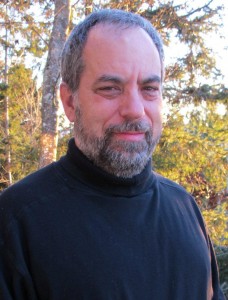 Good Morning Book Lovers! I say good morning because I'd like to welcome today's guest to Book Lovers Inc, military romance author M. L. Buchman. The latest book in his series about the 160th Special Operations Aviation Regiment (Airborne) is I Own the Dawn, so see, morning! But also, as you'll read in my review later today, very terrific. (The first book in the series, The Night is Mine, was equally marvelous. If you're curious, catch my review at Reading Reality)
Let's hear from the man with the many pseudonyms, M.L. Buchman…
Marlene: Hi Matt, welcome to Book Lovers Inc.! Can you please tell us a bit about yourself?
Matt: I'm a male who writes romance. I'm a recovered computer nerd who can design and build a house or single-hand a 50′ sailboat. I'm a driven type-A about work and a total romantic mush in my real life. I've consulted to the Fortune 100 and lost everything and bicycled solo around the world to figure out what came next. And what came next were novels!
Marlene: Matt, you write under three different names (gulp!) Matthew Lieber Buchman, Matthew J Booker, and the name that your romance readers are coming to know and love, M.L. Buchman. What's the story behind all the aliases?
Matt: Matthew Lieber Buchman roughly translates as Matthew Beloved Bookman, how could I resist writing under that name? So that's where my initial SF&F started and all wound up. Then I wanted a thrillerish name for my silly foodie thriller and I cooked up Matthew J Booker. Then I sold a romance series, The Night Stalkers, and have started a contemporary series with Angelo's Hearth — Where Dreams are Born. The editor for The Night Stalker and I talked about names and we felt that "M.L." was a nice balance. It allowed those who might be disinclined to read a romance by a male author to pick it up anyway. I also thought it was a nice reverse homage to all of the women who've tried to protect themselves in our society over the decades by placing only their initials in phone books.
Marlene: You've said you have a day job, and that the most frequent question you usually get is, "YOU WRITE WHAT?" Since that "what" is what we at Book Lovers Inc. love, would you like to tell us how you got into writing romances?
Matt: Every book I've ever written has a love story. My science fiction post-apocalyptics, they have a love story. My foodie thriller and my foolish fantasies. I've always been wrapped up in love stories my whole life. I was raised on Fred Astaire and Ginger Rogers movies. Broadway musicals weren't entertainment in our house, they were a way of life. And my first ever writer's conference was the Romance Writers of America national conference (where I read my first 3 romances in 1996 and never looked back). My favorite movies, well, okay, you caught me, B-science fiction and romances (Forbidden Planet or Notting Hill? Pride and Prejudice or Deep Impact? These are tough choices some nights).
I see a romance novel as an extension of all this and a chance to play with that most amazing moment in my life, the moment I fell for my wife and step-kid. Fifteen years ago it changed my whole future and it continues to change my present for the better every day.
Marlene: Describe a typical day of writing? Are you a planner or pantser? How do you manage to coordinate your day job, your research and your writing?
Matt: I have an idea, a sentence, a character — then I go for a walk with my wife. We talk about story and what would be fun or amusing or interesting and I get a first scene, or even a first moment in my head and I'm off. I'll usually know the ending scene as well. Then I sort of fire the gun. I've tried a bunch of methods, but right now my favored one is from scene 1 to scene 100-whatever straight through.
Writing with a day job requires that you want it badly. I'm a night-owl who leaves for work at 7am. A book, when it's really rolling, will wake me at 5:30 to get in an hour and will fire me back up after dinner til bedtime. Research is my recreational reading, my past, my imagination and I have a secret weapon — I married a librarian! She's awesome.
Marlene: Speaking of research, the amount of detail about military operations in The Night Stalkers series seems incredible. Can you tell us a little about the research you do for the series?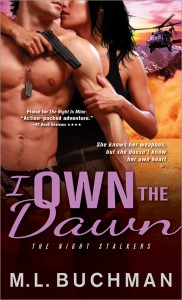 Matt: I'm not military and I've never flown a helicopter (though I did get my private pilot license long ago). In all my books I strive to make it real, make it authentic, no matter how fantastic or everyday the world, I want it to have a truth. So, I read a lot about helicopters and SOAR (the U.S. Army's real-life secret helicopter regiment). But I read far more about the people, memoirs, articles, and blogs. I interviewed retired Marines, a USCG (Coast Guard) rescue pilot, and even a truly amazing female crew chief who flew Black Hawks in Iraq. I wanted to make the people feel real.
Marlene: What do you think is the difference between a reader and a real Book Lover?
Matt: I don't think there is such a distinction. I think there is a spectrum. It's like: no red meat, no meat, no seafood, vegetarian, vegan. Or: Wagner to Puccini to Rogers and Hammerstein. I have a friend who will never read one of my novels, she doesn't read books, just magazines. I have friends who read a romance, but not one of those heavy historicals. I have friends who would consume a book a day if they had the time, my wife the librarian is one of those (me too, but I'd rather be writing them). There's another spectrum for you: I've been working on this novel… I just finished my first book, I write 4 novels a year despite a day job (again me).
Marlene: And what book do you think everyone should read, and why did you pick that book?
Matt: The one that touches their heart and inspires them to be a better person. For some it's the Bible, for some it is the first book they read, for others it's the first book they wrote. For me it was Arthur C. Clarke's City and the Stars. At the age of eight I jumped from a poor first grade reading level straight into novels and skipped everything in between. Is it a great story or fabulously written? No. But it is the one that changed my life. If you corner me on this one I'll say Norton Juster's The Phantom Tollboth (with the Jules Feiffer illustrations) because you can read it to your kids and for yourself still rediscover the joy of words and the joy possible in daily life.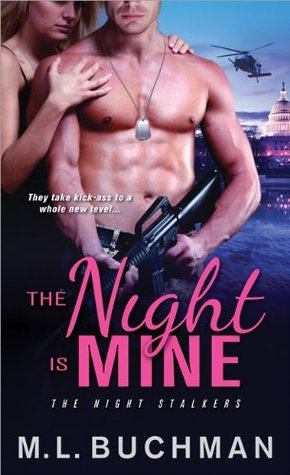 Marlene: I Own the Dawn is the second book in The Night Stalkers series. The first book, The Night is Mine was absolutely fantastic. (One of my nights was all yours when I stayed up reading it until 3 am!) Can you tell our readers what they can expect of The Night Stalker series, and more specifically of I Own the Dawn?
Matt: Wow! That's what I want to do. I want you to stay up late, miss work, forget about dinner. When writing these, I would miss meals far more often if my wife and kid didn't supply me with the occasional dinner tray (complete with a flower and a piece of chocolate). Both of these books are about woman stepping into a man's world. And not doing it cowed or as a girlfriend or as part of some quota, but rather doing it because they're just that good. I want to celebrate their magnificence… and help them each find the man they deserve (I am a romantic after all).
Marlene: What made you choose SOAR (Special Operations Aviation Regiment (Airborne)) specifically as the focus of your military romance series? Why not the Navy SEALs or some other special operations unit?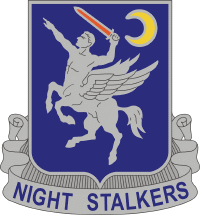 Matt: Serendipity. I stumbled on their existence and at that moment I thought, "How cool!" That's the moment a writer lives for. The moment when s/he feels inspired by something and wants to tell that story and share it with others. Then I started researching and found there weren't piles of books on these folks, fiction or non (I know because I own almost every one and they fill less than 1/2 of a shelf in my bookcase). It was like finding an undiscovered country. As someone who wanted to grow up to be a pilot and couldn't because of partial colorblindness, these were the people whose stories I wanted to tell. The ones that drove me personally to write.
Marlene: Now can you tell us 3 reasons why people should read your books?
Matt: Fun! Fascinating! For romantics who believe in happily ever after!
Marlene: Can you summarize I Own the Dawn for us twitterstyle (140 characters or less)?
Matt: Kee, street kid, top Army sniper. Archie, Bostonian, best copilot. Can they survive each other long enough to stop a war?
Marlene: Will there be more books in this series? (Please say yes!) What is next on your schedule?
Matt: They fly a 4-seat Black Hawk helicopter and the 4-book series fills those one by one. February 2013 is the chief mechanic and August 2014 is the copilot. Then I have ideas for a continuation series and an offshoot series. I also have a contemporary romance series I'm working on book 2 of and… Yesterday, my wife and I counted up the concrete ideas for books I could just sit down and write if I had the time… 14! And then we thought up a new series. (Yes, we were walking and holding hands at the time.)
Thanks so much for having me and asking such great questions! And please check out the contest page on my website: by following along my blog tour for the month of August, you will have multiple chances to win a signed copy of I Own the Dawn: http://www.matthewlieberbuchman.com/?p=294.
Marlene: And thank you, Matt, for joining us!
I Own the Dawn

Name: Archibald Jeffrey Stevenson III
Rank: First Lieutenant, Dap Hawk Copilot
Mission: Strategy and execution of special ops maneuvers

Name: Kee Smith
Rank: Sergeant, Night Stalker Gunner and Sharpshooter
Mission: Whatever it takes to get the job done

You Wouldn't Think It Could Get Worse, Until It Does…
When a special mission slowly unravels, it is up to Kee and Archie to get their team out of an impossible situation with international implications. With her weaponry knowledge and his strategic thinking, plus the explosive attraction that puts them into exact synchrony, together they might just have a fighting chance.

Buy at Amazon – Book Depository – Kindle store
~~~~~~~~~~~~~~~~~~~~~~~~~~~~~~~~~~~~~~~~
~*~*Giveaway*~*~
Sourcebooks has generously offered a print copy of I Own the Dawn to one lucky commenter!
All you have to do is

leave a meaningful comment/question for Matt

.
(You can read our full giveaway policy here)
Please leave us a way to contact you.
(Email or twitter name – no way to contact you – no entry).
This giveaway is open US/Canada Only!
Giveaway ends on August 25 and we will announce the winner on Sunday.
Good Luck