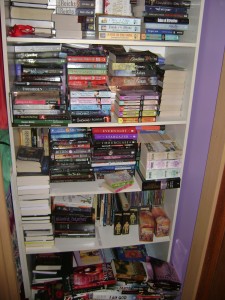 Good afternoon fellow Book Lovers…
Today I am here to share with you the current state of my bookshelves.
To start with I will give you an overview of the entire thing:
As you can see, I only have one bookshelf 🙁 But I have managed to triple stack in most places. The top shelf has reference books, review books and huge series that would make my TBR wall far to big. Above that (couldn't fit it into the photo) are my accounting books and the only book in the world that I want to burn….the Australian Tax Guide.
Next is the favourites shelf, all of my favourite books and favourite covers go here.
Third shelf from the top houses Harry Potter, Lemony Snicket and Robin Hobb, three masters of writing that I couldn't fit on the favourites shelf…but they were my childhood favourites.
Fourth down is the Horrible Histories magazine collection plus various two …

On the Book Lovers' Shelves,The Winged Lover

26 Jan 2012

16 comments