Welcome to Part III of BLI's Kink in Erotic Romance: Forbidden Fruit or Guilty Pleasure? series.
I'm very excited about the next two segments of the series because BLI is welcoming special guest author Eden Bradley aka Eve Berlin who was kind enough to share her valuable time for an extensive conversation about the BDSM Lifestyle and it's incorporation into erotic romance.
Eden Bradley/Eve Berlin is a full-time author whose many books are published by Harlequin Spice and HQN, Berkley Heat, Bantam/Dell, and Samhain Publishing. She has been reading and writing for as long as she can remember but became serious about her writing in the summer of 2000. She wrote romance novels, since that was what she thought she could sell, but eventually returned to what she truly loved: writing erotica, and eventually blended erotica and romance in many of her books. It's been a difficult and wondrous journey for Eden, learning about the craft and business of writing, but she has found it well worth it.
Eden /Eve and her three writer friends, Crystal Jordan, Karen Erickson and R.G. Alexander aka Rachel Grace comprise the fun, self avowed smut-peddling Smutketeers and host a very active, well attended blog (if you haven't visited the site you should)! The Smutketeers were featured in the January 2012 issue of RT Book Reviews and there is a wonderful article about these amazing ladies. Eden / Eve is known as the sensualist of the group and is an authority on the practice of BDSM and incorporates this multifaceted and complex theme into many of her stories.
I was thrilled and honored when Eden/Eve agreed to contribute to this series and was extremely fortunate to be able to talk to her for well over an hour on the phone about BDSM. So we are offering a synopsis of the first part of that conversation today and the second part will be published on March 15th.
Please join me in giving a warm welcome to Eden Bradley aka Eve Berlin!
Where to begin?
Lea: I explained to Eden that part of the objective of this series is to increase reader understanding of BDSM and asked if she could offer us a non-Wikipedia definition.
Eden: The acronym BDSM stands for Bondage & Discipline(B&D), Dominance & Submission (D/s), Sadism & Masochism (S/M). It's a spectrum of disciplines that in essence is a power play relationship between Dominant (Dom) and Submissive (Sub) partners. A dom is also commonly known as a 'top' and a sub as a 'bottom'.
Some people are purely dominants and never relinquish that role, and conversely some are born submissives. Others are known as a 'switch', and can alternate between the two roles. Still others fall some place in between on the spectrum. One important thing to remember about defining BDSM is that it's up to each individual to define their roles-or not-as they choose.
There can be two or more people involved in a play experience or 'scene'. The participants don't necessarily have to be in a committed, long-term relationship, although many are. The intrinsic trust involved and the deep connections made through this extreme form of intimate contact often make for very intense committed relationships. However, it is also common for people to meet at a club or play party in a private home and connect for an evening of play.
In either instance, prior to a scene experience or at the beginning of a relationship there is often a negotiation to discover if the prospective partners are a good match as far as desires, needs, beliefs, etc, as well as for safety purposes-both physical and emotional. Those who play by the commonly accepted Safe, Sane and Consensual credo will always go through a negotiation process.
Sex itself doesn't necessarily have to be part of the play but often is. The play can be sensual without being sexual, and can even be playful rather than entirely serious. Kink folks definitely have a good sense of humor! Pain also may or may not be involved. Many people are only into bondage or being verbally dominated. Is that still BDSM? Yes, by its definition, but again, it is up to each individual to label themselves as being into BDSM or not.
People often ask how anyone can enjoy pain. There are a lot of psychological aspects involved, and of course the answer is different for everyone, however, there are some common reasons why these kinds of sensations are enjoyable. There is a trance-like state submissives often achieve during play called subspace. This state can be reached through extremes in sensation, but also through things like being asked to kneel, having a collar fastened around their necks, being given instructions over the phone or the Internet-much of subspace is psychological, as are most of the dynamics involved in BDSM. A release of endorphins, usually induced by pain play, is often involved and can enable the bottom to endure high levels of sensation and to feel blissful. Of course, sexual stimulation can also help make the experience more enjoyable, and pain can be used to heighten sexual response. This is a very short answer to a very complex question.
Lea: I was a committed distance runner for many years and it sounds much like runner's high – it's a real rush.
Eden: That is an excellent analogy! The same chemicals are released in the brain, so while the stimulus is different the effects are very much the same. Add in strong emotional elements and I think you can begin to see why BDSM practice can be so intense and satisfying to those who crave it.
Let me address some other important aspects in Safe, Sane and Consensual play. Subspace, as I mentioned is a trance-like state and the person experiencing it isn't capable of making rational decisions, so it's vital that there are parameters established before a play experience. Dominants have an enormous responsibility in many ways-they must keep the bottom safe in every way while taking them to the edge of their desires, and often what they can withstand physically. There can sometimes be an emotional release following play called Bottoming Out which can last 15 minutes to 3 days. Aftercare, which can involve gentle nurturing, cuddling, seeing that the bottom has something to eat or drink, that their marks are attended to if needed, etc. is crucial.
At its base, BDSM is really a bit of a mind fuck, there is so much psychology involved-and that's not necessarily a bad thing. In fact, this part of the dynamic is often what people seek out. Even in those experiences where someone is looking for an evening of thrill, it's all about complete trust and the respect which has to be established between participants. It's an exchange of power and control-and the 'exchange' part is a necessary element.
Pain stimulus or fetishes can trigger an automatic response resulting in arousal or excitement for many people, although they don't always recognize fetishes as such. I love tattoos, for instance, and all I have to do is walk into a tattoo shop and hear the needle buzzing and I get all shivery- lol!
In BDSM, pain and role playing is different for each person. It's really about that exchange of power, regardless of the specific stimulus in any given scene.
Lea: I remember you used tattoos as the foundation of the attraction between the protagonists in your novella THE ART OF DESIRE in the Hot Nights, Dark Desires anthology.
Here is a snippet that describes protagonist Sophie's reaction, secret desire for a tattoo and I think it demonstrates that autonomic reaction/arousal so well, and she hasn't consented to get a tattoo yet:
"Sophie pulled in a breath, trying to concentrate on her friend's words over the sharp buzz of desire running through her system. Tattoo. That word, the mere idea, had always had this effect on her. And once more, she hated that she wasn't ever brave enough to indulge her secret yearning."

The Art of Desire © Eden Bradley
I think there is something of you in Sophie, Eden! Lol
Eden: Oh, there definitely is!
Lea: The Dominant and Submissive roles aren't gender specific are they? I think because of societal association of masculinity and strength with dominance the natural assumption is that all Doms are men. lol
Eden: We see mostly female bottoms and male tops in erotic romance because those roles have more general appeal to the readership. Romance readers want the heroes to be very masculine, and many readers view a male submissive as weak-although I don't think they have to be weak at all, in life or in fiction. I wrote a very strong male bottom in my book THE BEAUTY OF SURRENDER, and he was one of my editor's favorite heroes-and one of mine!
In real life you see a lot of male subs at the clubs. Female tops are a bit harder to find, and are therefore greatly valued. I've seen some really wicked Femme Doms and it takes a strong man to play with someone like that.
More important than the sex of the participants is the psychology again. There are many different reasons why people seek out these extreme forms of sensual and sexual practice, and why their needs and desires drive them to the various roles.
Lea: I think there is a lot of misconception out there about the difference between Erotica and Erotic Romance. You write both Eden, what do you see as the differentiation?
Eden: In Erotica sex is the driving force for the story and character arc. It's stimulating to the senses, titillating—it can be sexual or purely sensual. The protagonist will usually have a journey of self-discovery, like a slice of life moment. There can be significant psychology at play in erotica.
In Erotic Romance the developing relationship is the main focus of the story, as it is in any of the romance genres. The intimacy of sex enhances the relationship and drives the story and character arc forward, but the romance still takes center stage.
Lea: I've talked to many readers that associate erotica with porn, and I think because of that writers shy away from having their books fall under the Erotica genre but it isn't that at all is it?
Eden: Oh no! Porn is sex and nothing else-sex for the sake of sex, period. Erotica is stimulating to the senses and has some emotional content and story, even if that story is a brief look at a moment of personal discovery. Erotica can address some of the extreme content found in porn, but it's done in a different way, and with a different goal in mind. Erotica-or erotic romance-can be stories about fetishes like BDSM, or other things like tattoo fetish or sploshing, all of which I've explored in various stories. But the level of extreme sex itself does not define either porn or erotica.
Lea: I'm thinking of FORBIDDEN FRUIT, one of my favorites of your books, which is about Mia who is a Professor who teaches the sociological effects of culture on sexuality and Jagger, who is one of her students. I loved it because of it's older woman with a younger man theme but you also explore how the use of certain foods, like honey, wine etc. can heighten the sensuality. It's also about a woman abandoning her inhibitions.
You like to develop complex characters for your novels to compliment their unique relationships don't you Eden?
Eden: Yes! I'm fascinated by what makes people tick and I think complicated histories and characters add depth to a story.
Length: 256 Pages
Publisher: Random House
Genre: Erotic Romance / BDSM
Release Date: October 27, 2009
Formats Available: Trade Paperback, Kindle, Nook
Purchasing Info: Author's Website, Publisher, Amazon.com, Amazon.ca, Barnes & Noble, Books-A-Million, The Book Depository, Goodreads, Nook, Kindle
Shibari…The ancient art of erotic restraint…Its finely-knotted ropes are a turn-on, a sexual experience…and for some, an absolute necessity…

Serving the Master: Desmond and Ava

At a San Francisco sex club called Pinnacle, Ava Gregory seeks something she cannot quite describe. But of one thing she is certain: the moments when feels her most beautiful and complete are when she is tightly restrained in the Shibari ropes. At Pinnacle, she's paired with a master: Desmond Hale, who thrives on control… But something surprising happens when Desmond binds Ava's willing body and takes her to the edge of ecstasy. And now, the two are taking their relationship out of the shadows of the club, sharing secrets unleashed and bodies unbound…

Soothing the Beast: Marina and James

An art dealer and Shibari master, Marina has never hesitated to dominate anyone. Until she meets James, a dark, gorgeous, towering journalist who's survived horrors around the world. James confesses that submission is the only way to clear his troubled mind, but Marina is instantly overwhelmed by his strength and magnetism. To share the pleasures of bondage, something must change between them. When it does, it will come with an explosion of unexpected pleasure—and a relationship that neither could have ever have imagined…
Lea: I wanted to ask you about bondage. What is it about being bound that makes it so enticing to a submissive? Does it relate back to the power exchange? As part of this can you talk about Shibari?
Eden: Being bound is a physical and visual symbol of handing over your power to someone else, of being rendered powerless, so it's often very attractive to a submissive. In fact, many bottoms want nothing more than to be bound. So yes—it's all about the power exchange again. There is also a sense for many bottoms of being 'decorated' when they're in the ropes, and many tops appreciate the aesthetic of the patterns one can create on the body. Rope bondage can be incredibly beautiful and intricate—and just as beautiful even in its simplest forms. Of course, I love chains, cuffs, ankle restraints, too. 🙂
Shibari is an ancient form of Japanese rope bondage, although much of what is practiced here in the US is called Western Web. Shibari was actually created as a means of torture. Prisoners would be bound, with knots placed at sensitive pressure points in order to inflict pain. The same idea can be used in kink play, with knots for pleasure, knots for pain.
There are a number of bottoms who find being bound a meditational experience, and some can be bound for many hours, lost in subspace. It can be an ecstasy of its own sort. I've seen people at the clubs spend hours creating beautiful webs of rope on enormous wooden frames, binding the bottom into the web. It's pretty amazing to see. Shibari is definitely an art form, enhanced by the beauty of the power exchange involved.
This concludes the first part of my chat with Eden/Eve. In two weeks the final post of BLI's Kink in Erotic Romance: Forbidden Fruit or Guilty Pleasure? series and the second part of my conversation with Eden will be posted. This will include discussion about the BDSM club scene, and uses of various sensual play techniques. I hope you will join us!
Remember, there is a $25.00 gift card up for grabs and the entry information is listed below.
Where to find Eden Bradley/Eve Berlin:
Websites: Eden or Eve
Twitter
Facebook
Smutketeers Blog
~~~~~~~~~~~~~~~~~~~~~~~~~~~~~~~~~~~~~~~~
~*~*Giveaway*~*~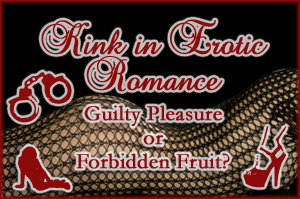 BLI is offering a $25.00 USD value Gift Card to the online Bookstore of the Winner's choice to one lucky commenter! (**The Online Bookstore must have GC's available to order to customers who live outside of the USA!) 🙂
*Please Note: You can enter this contest at each of the four posts for the duration of the series. Therefore you will have up to FOUR chances to win if you comment on each post!!
If you missed Part I of the series, you can read the post and enter by clicking HERE.
If you missed Part II of the series, you can read the post and enter by clicking HERE.
All you have to do is leave a question for Eden/Eve or leave a meaningful comment regarding your thoughts about our chat!
(You can read our full giveaway policy here)
Please leave us a way to contact you.
(Email in blogger profile or twitter name – no way to contact you – no entry).
This Giveaway is open Internationally!
Giveaway ends on Saturday, March 24, 2012; and we will announce the winner on Sunday.
Good luck!