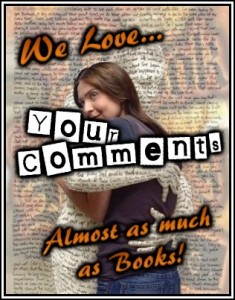 The winner of our We Love Your Comments Giveaway for November is … Emily Crowe who commented on our post :  My Experience with the Romance genre: Draconismoi Reads a Romance. From Start to Finish. :
Emily Crowe November 26, 2012 at 4:54 pm
Boo to the book but yay for your review. Read it on my lunch break and it made me laugh!
Congratulations! An email will been sent to you. Please email us back in the in the next 72 hours to claim your price.
We will now start counting for December. Here again the rules:
We thought long and hard about how we should show you, the readers of Book Lovers Inc how much we appreciate your input and interaction. We are happy and grateful for every comment cuz we know how it is to be a "blog-hopper". We enjoy reading your thoughts and we …

Giveaways,The HEA Lover,We Love Your Comments,Winners

1 Dec 2012

2 comments