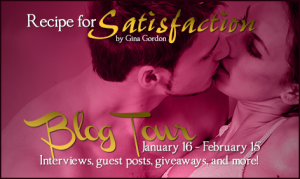 We are delighted to have Gina Gordon join us today for the latest stop on her Recipe for Satisfaction Blog Tour. Recipe for Satisfaction is a contemporary romance available now from Entangled Publishing. Please stay tuned to find out more about Gina and her sexy Madewood Brothers, and don't forget to enter the contest at the end of the post!
Stella: Hi Gina, welcome to Book Lovers Inc! Can you please tell us a bit about yourself?
Gina: Thanks for having me ☺
Well, I'm Canadian! I love cupcakes and the color pink and I love all things happily ever after.
Stella: Are you a planner or pantser? Can you tell us a bit about your writing process? How did your novel come to life?
Gina: I am definitely a plotter. I pantsed one time and got to 15,000 words and then I blanked. Had to get out the pen and …

featured,Gina Gordon,Giveaways,Interview,The Latin Lover

15 Feb 2013

1 comment