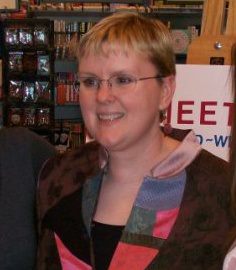 Please welcome Sandy James to Book Lovers Inc. Sandy is here to celebrate the release of her first full-blown fantasy romance, The Reluctant Amazon. This blend of romance, fantasy and multiple-multiple mythologies is the first of a four-book series about modern Amazon warriors saving the world, and it's gets off to an earth-shaking start (review here). Sandy's going to talk about myths, movies and horses, but not necessarily in that order!
You can win a copy of either The Reluctant Amazon or Sandy's first book from Carina Press, The Rules of The Game, so be sure to leave a comment at the end.
Marlene: Hi Sandy, welcome to Book Lovers Inc! Can you please tell us a bit about yourself?
Sandy: Thanks so much for having me, Marlene!
Writing is actually my third "career." My husband and I married right out of college, and our first child came along …

featured,Giveaways,Interview,Sandy James,The Rocket Lover

26 Oct 2012

11 comments