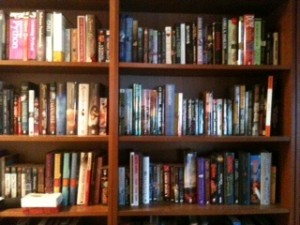 21 Mar 2013

14 comments
We've probably all seen the safety warning on the passenger side mirrors  of  cars. Wikipedia says it's not just a US phenomenon, that other countries do this too. You know the phrase, "objects in mirror are closer than they appear".
Sometimes it's not real until after you've backed into the car behind you, usually while parallel parking. C'est la vie.
However, I'm here about books. And bookshelves. And the objects in this photo are more numerous than they appear. We moved from the Atlanta suburbs to Seattle in December. In spite of my current preference for ebooks, it hasn't always been so.
Not to mention, I've been collecting books for decades. Every conceivably available wall in our apartment has a six-foot tall bookshelf "decorating" it. This picture isn't of a room. It's the hallway. We (my husband is just as much of a collector as I am) have over …